{{ root_page.title }}
Community Testing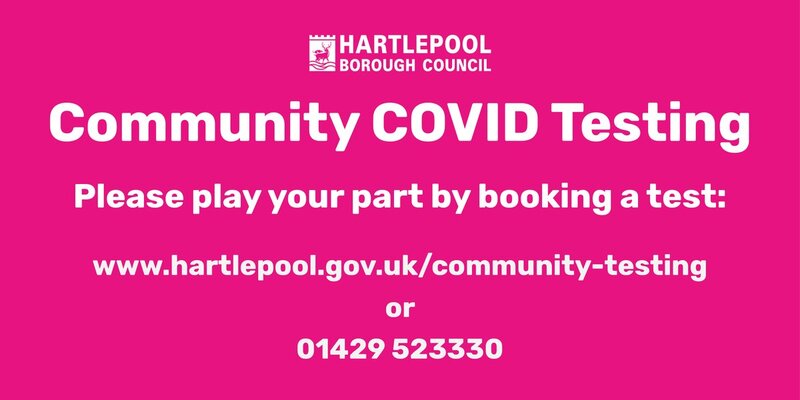 It's important for you to get a test for COVID if you have got symptoms and also if you haven't got symptoms, but it's very important to note that there are two completely different testing arrangements to follow.
If you HAVE symptoms
If you have any of the symptoms (the main symptoms are still a new, continuous cough, a high temperature and/or a loss of or change to your sense of smell or taste) you should book a test straight away – don't 'wait and see' because during that time if you do have the virus you could very well be spreading it to other people and you could also become more poorly yourself.
Tests are available at the Department of Health and Social Care's mobile drive-through testing unit at the Hartlepool Waterfront site, the walk-through testing facilities in the Grayfields car park off Jesmond Gardens and at the Headland Town Square. Tests must be booked – you can't just turn up. You can get a test on a weekend as well as a weekday.
You can book online at www.gov.uk/get-coronavirus-test or by calling 119 – don't use 111. For more information click here.
If you DON'T HAVE symptoms
Up to a third of people with COVID don't have any symptoms and so can spread it without knowing, so testing as many people as possible who DON'T have symptoms to find out if they have COVID and then helping them to self-isolate if they do is an important way of bringing the virus under control.
Testing takes place at Mill House Leisure Centre in Raby Road. Anyone who is aged 18 or over who lives or works in Hartlepool and who does NOT have COVID symptoms can get a test and is encouraged to do so (except people who are shielding).
Particularly encouraged to get a test are those people who are unable to work from home, come into contact with the public and have no access to other rapid testing – for example taxi drivers, supermarket and other shop staff, tradespeople, takeaway staff, carers, social workers and nursery staff. Because they are coming into frequent contact with other people, they are advised to get two tests a week, 3-4 days apart.
Tests must be booked in advance - you can't just turn up. For more information and to book a test click here or call 01429 523330 during normal office hours. You don't have to get a test, but the more people who come along and get tested, the faster Hartlepool can bring virus case numbers down.
The Testing Centre at Mill House Leisure Centre is only for people who DON'T have COVID symptoms - you MUST NOT come to the centre if you have any of the COVID symptoms