{{ root_page.title }}
Dementia Friendly Hartlepool
↵​​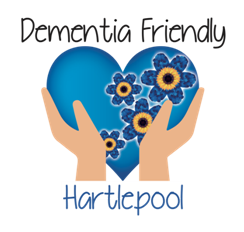 ​​
Vision
Dementia Friendly Hartlepool aims to develop Hartlepool as a nationally recognised dementia friendly community. We want to ensure that people living with dementia are able to remain active and involved in their communities. Our work will help the local community be aware of and understand more about dementia. People living with dementia and their carers will be able to live life well and able to seek the help and support they need. We signpost to local Dementia Friendly services, support groups and fundraising events. We also offer Dementia Friends sessions to individuals, businesses and groups across Hartlepool to enable people to learn more about Dementia and become Dementia Friends. Visit the 'How to get involved tab' to learn more.
To date Hartlepool have:
​5,041
dementia friends,
30 dementia friend champions
,
11 primary shools, 3 secondary schools and 1 college involved in dementia friends activities.

Click on the logos below to read their individual pledge.