Hartlepool Waterfront Festival programme unveiled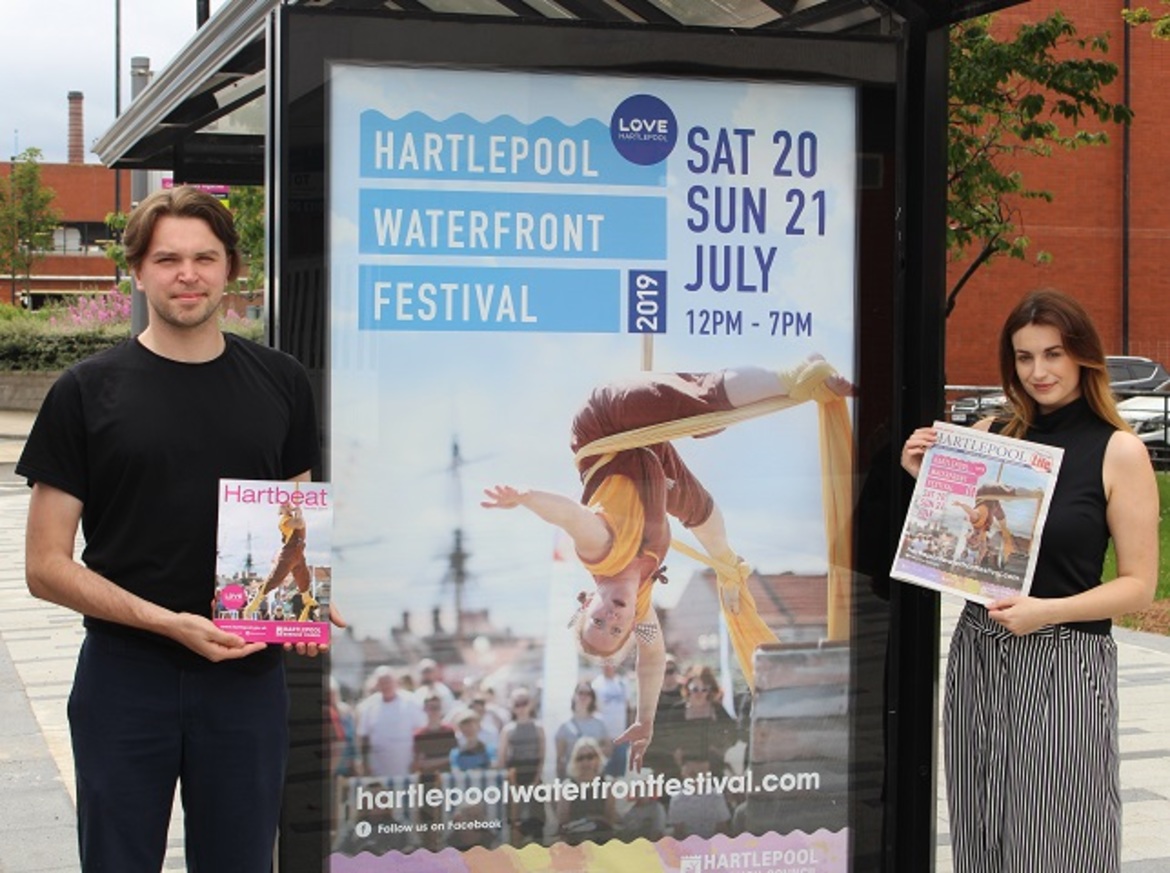 Anticipation is building ahead of the Hartlepool Waterfront Festival, and with just two weeks to go some key elements of the jam-packed programme have been unveiled.
The festival, sponsored by RACZ Group and Thirteen, takes place on the Hartlepool Waterfront in the heart of Hartlepool Marina over the weekend of Saturday 20th and Sunday 21st July from 12pm-7pm, and will feature a wide range of arts, music and entertainment.
This year's theme is "Harbour of Refuge", historically the name given to a safe haven for ships seeking free shelter from stormy seas on the Headland.
The festival will re-imagine this concept and celebrate the good-old Hartlepool welcome for those from different communities seeking a better life. To do this the festival is throwing the biggest welcome party you have ever seen! A welcome for anyone and everyone but also for a special guest, 25ft Welsh Puppet Brân the Blessed.
"After a year in the making, we are so excited about welcoming the people of the Tees Valley and beyond to a giant party on a scale the town has ever seen at this year's festival.
"You are invited to celebrate our rich maritime heritage and all things #LoveHartlepool with two days of music, performance, arts and creative activity!" says festival organiser Aaron Bowman from Hartlepool Borough Council.
There will be a number of stages and areas at the festival, including The Quarterdeck which will host some of the country's finest outdoor theatre. Festival organisers have been working with Welsh theatre company Small World Theatre to help bring the story of 25ft-high puppet Brân the Blessed to life! This will see several choirs from throughout Hartlepool and the surrounding areas take part in a performance the likes of which the town has never before seen! People are encouraged to welcome Brân when he crashes the party in spectacular fashion on Sunday July 21st from 5pm.
The #LoveHartlepool stage is hosting dance and musical arts, including the town's Michael Rice fresh from his Eurovision Song Contest adventure. He will be belting out pop songs from 6pm on Saturday. Michael will be in great company alongside Hartlepool's favourite hipster duo Pek and Wanley when they perform their amazing acoustic covers from 1:45pm on Saturday.
Festival-goers are also invited to visit The House of Love stage for a party like no other. Last year's hosts and fiery trio "Bonnie and the Bonnettes" are back with their unique blend of drag, performance and cabaret.
Fresh from Durham Brass festival, Back Chat Brass will be taking to the stage from 1pm on Sunday and will be astounding crowds with their brassy twists on pop songs and Beyoncé medleys!
At last year's Waterfront Festival over 3,000 children and young people worked with artists to make, create and craft pieces of art.
This year, organisers have been working with Hartlepool-based artists Bloominart to put together a selection of some of the best artists in the North East who will be providing creative activity for children and young people on the Arts Beach, Whether it's making a giant lighthouse, or taking part in an epic pillow fight, it's time to roll up your sleeves and get messy as the ever popular programme of workshops returns.
Key elements of the programme are as follows:
Saturday, July 20th
12pm: Arrive early to be one of the first to witness Wayfinder by Output Arts which will take you on a guided tour of the marina - featuring stories of Hartlepool residents told through a magical ship's compass - and see you taking to the high seas! Find the departure gate at the Quarterdeck.
1pm: Once you are back on dry land, catch a performance by the Flying Bazazi Brothers who will be travelling to Hartlepool to tell their story.
2pm: Grab some loaded fries from the traders at the House of Love stage and take a seat to hear Spoken Word artist Lisette Auton.
3pm: Take the kids to the Arts Beach for a programme of drop-in creative workshops.
4pm: Be sure to take in a performance of Receivers of the Wreck which will take place on a shipwrecked boat on the Quarterdeck.
5pm: Catch Circo Rum Ba Ba's "Storm ship" which takes place on a pull-along boat - based on our very own HMS Trincomalee.
6pm: Grab a place at the front to get the best view of Michael Rice on the #LoveHartlepool stage.
Sunday, July 21st
12pm: Arrive early to check out the Artists' Market.
1pm: Catch some of the Back Chat Brass Performance on the #LoveHartlepool stage - rumour has it they've prepared a brass verson of some Beyonce bangers!
2pm: Play a game of Massive Battleships with Mufti Games.
3pm: Have a late lunch and catch some performers from the Hartlepool Folk Festival.
4pm: Award-winning Geordie rapper Kay Greyson heads up the House of Love Stage.
5pm: Gather around the main stage for our closing parade as we finally welcome Brân The Blessed, a 25-foot giant puppet.
This year's Hartlepool Waterfront Festival will be the first ever Pay What You Decide outdoor arts festival in the country. Visitors will be able to make anonymous donations based on their experience of the event, with all monies being used to providing extra children's activities at next year's festival.
For more information about the festival go to www.hartlepoolwaterfrontfestival.com
Please note: The content in this article is over one year old, there may be newer guidance available.